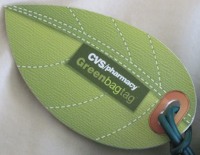 As The Consumerist recently reported, CVS is now selling "Green Bag Tags" at the register.  Here's how it's supposed to work:
You buy a tag for 99¢ and attach it to your reusable shopping bag.
Every time you give that bag to the checkout clerk to use instead of a plastic bag, the clerk scans the bar code on the tag, which rings up as a special free purchase on your receipt.
Every fourth time you use the tag, you get $1 in ExtraBucks (obviously, this means that you have to be a member of the CVS ExtraCare rewards program).
Wow, 25¢ each time you reuse a bag sounds like a really great deal, right?  It's much better than the comparable deal offered by our local Stop & Shop (5¢ per bag) or Whole Foods (10¢).  Only here's what actually happened when I tried to buy and use a couple of the tags for the first time at my neighborhood CVS:
Since I was planning on buying about two bags worth of stuff, I brought two reusable shopping bags with me to CVS.
At the checkout, I took two of the Green Bag Tags off of the display rack and asked the clerk to ring them up first.
I removed them from their cardboard backing, put them onto the handles of my bags, handed the bags to the clerk, and asked her to scan the tags and use those bags instead of plastic ones.
Pandemonium ensued.